Guided Virtual Tour
We are so excited you have decided to check out our state-of-the art facility, containing modern exam rooms, a fully equipped surgical suite, in-house laboratory, pharmacy, a special photo booth, and more!
With our amazing team and cutting-edge facility, we strive to make every visit a positive and stress-free experience for all our clients and patients.
We look forward to hopefully welcoming you and your pet to our clinic and becoming the trusted partner in your pet's health and well-being.
Reception
The moment you step into our clinic, you will be greeted by our friendly and welcoming receptionists. Our reception area is specially designed to make you and your pet feel at home, with comfortable seating, natural lighting, and calming colors.
Our world-class receptionists are dedicated to providing the highest level of customer service and support, and will ensure that your visit to our clinic is as smooth and stress-free as possible. They will assist you with everything from scheduling appointments to answering your questions about your pet's health and well-being.
With their extensive knowledge of animal care and caring and compassionate approach, our receptionists will make you feel like a part of our family from the moment you arrive.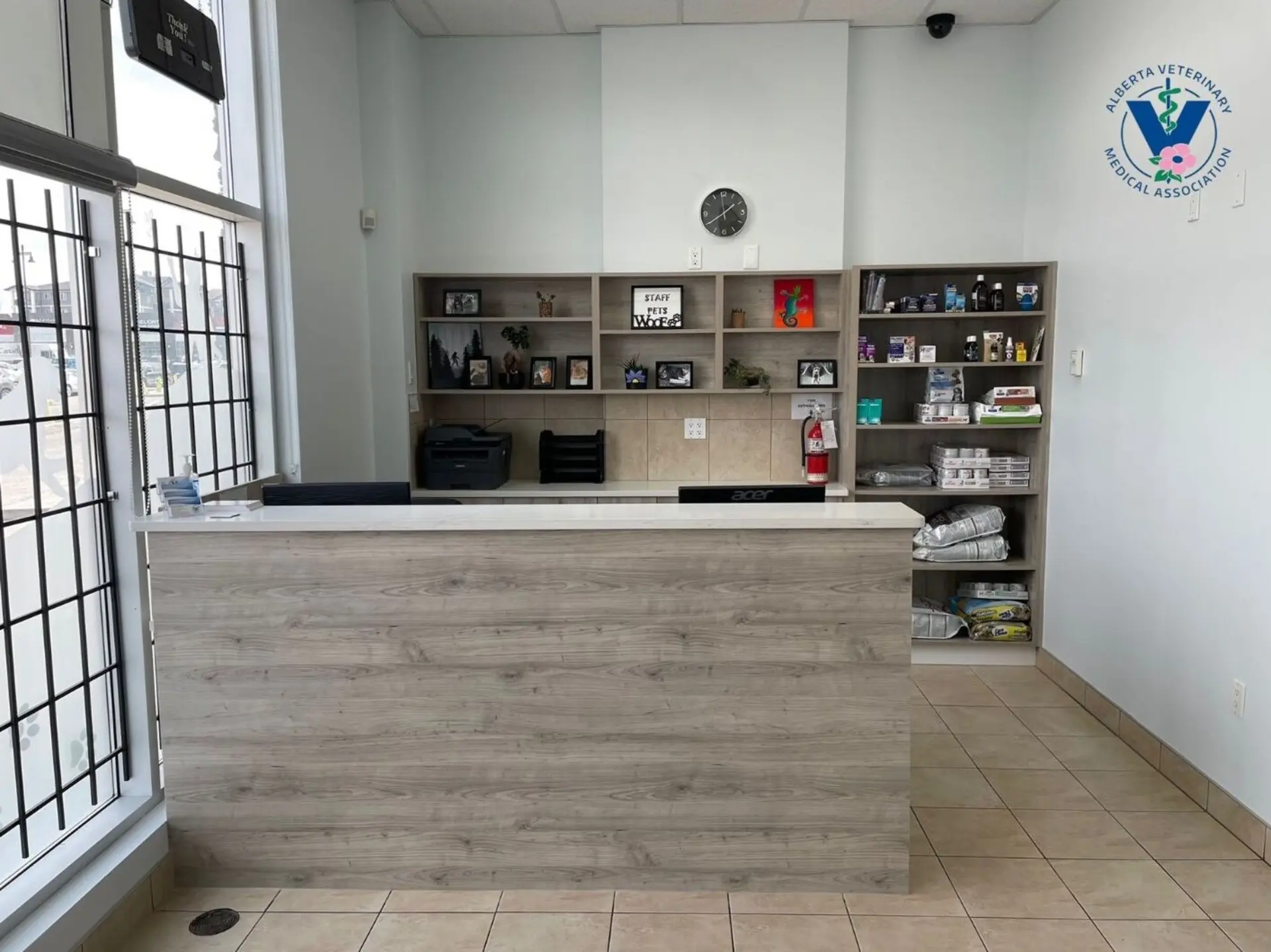 Welcome to our primary reception area, where our friendly and knowledgeable receptionists will greet you and your furry friend with a smile.

A landscape picture of our welcoming area, showcasing our product shelf, waiting area, and reception.
Products
We provide a large range of premium pet products, including nutritious dog food, treats, supplements, and toys, all of which are carefully curated to promote your pet's health and well-being.
Our expert staff will help you find the right products for your pet's unique needs and preferences. We understand that nutrition is absolutely essential to a pets health, and thus only offer the highest quality food and supplements from trusted brands.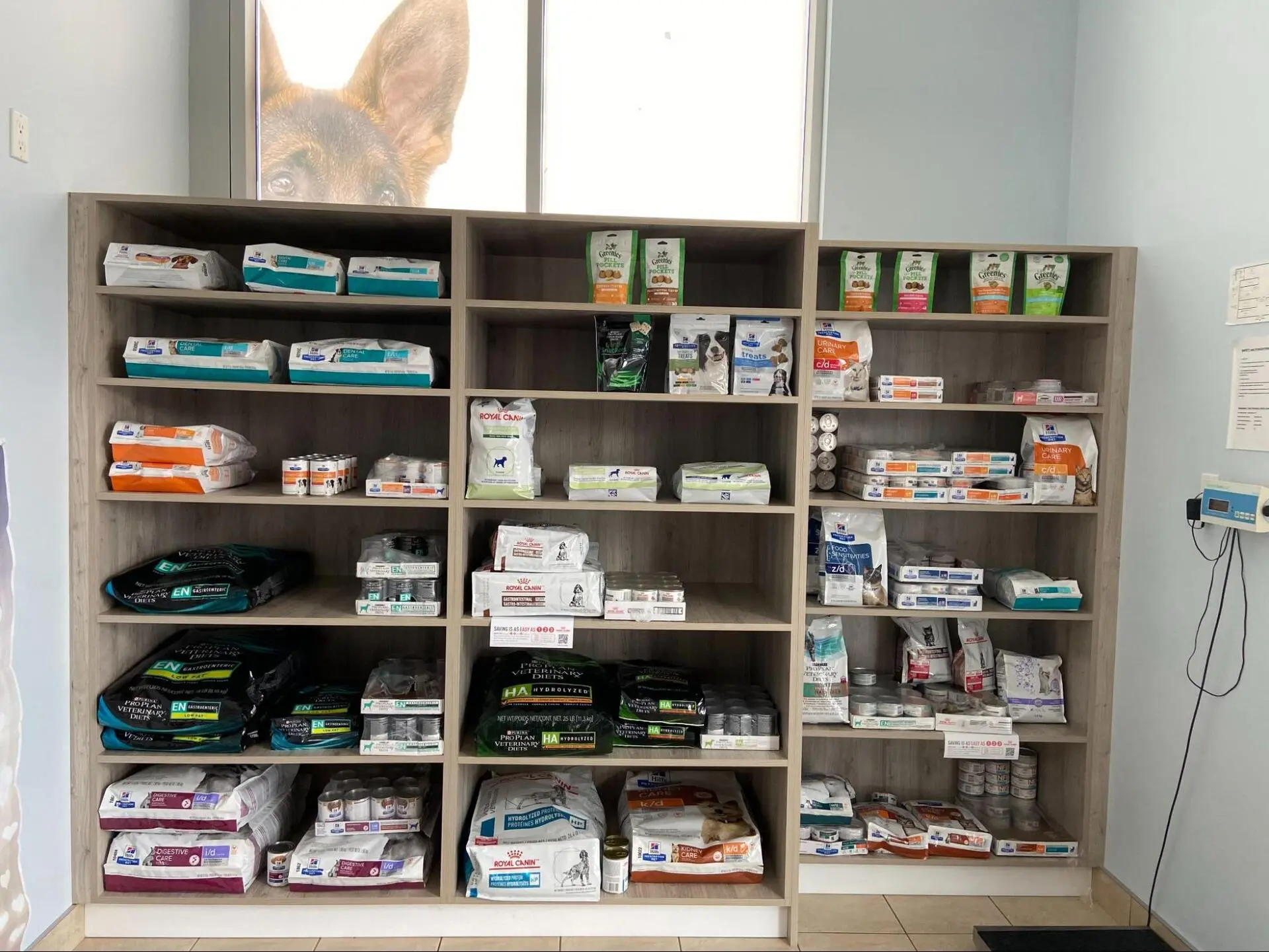 Tail-waggingly amazing! Our selection of top-quality products will keep your pet healthy, happy, and licking their bowl clean.
Exam Rooms
We have designed our exam rooms to ensure that your furry friend is as comfortable as possible during their visit with us. Our spacious and well-lit exam rooms are fully equipped with all the tools our experienced veterinarians will need to diagnose and treat any medical issues your pet may be experiencing.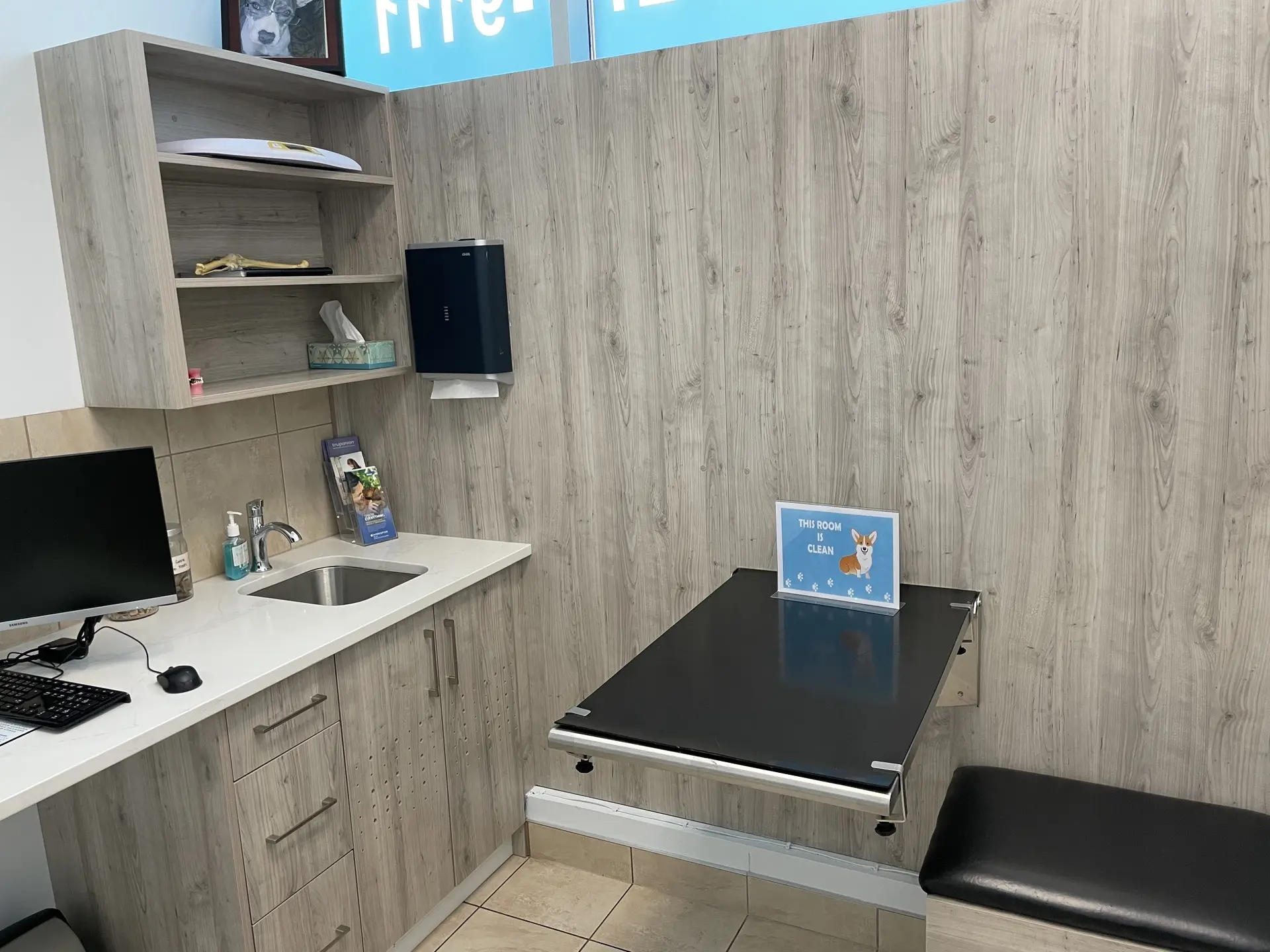 Our exam room is where your pet gets the high-quality treatment they deserve!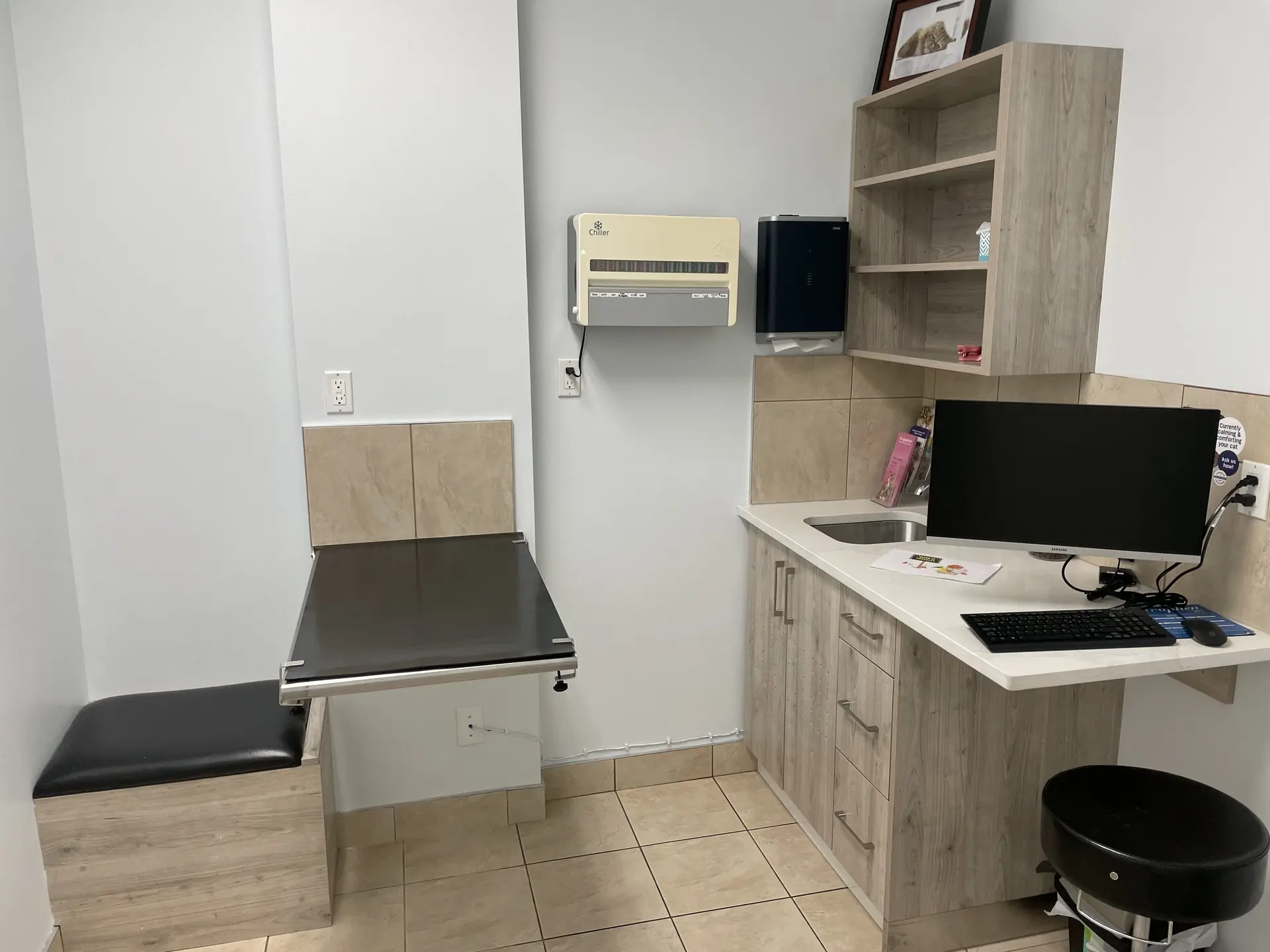 Our additional exam room!
Operating Room
Our veterinary clinic is dedicated to providing the best possible care for your pet, and that commitment extends to our operating room.
Our operating room is equipped with the latest technology and equipment, allowing us to perform surgeries with the highest level of precision and safety. Additionally, the room is meticulously maintained and sanitized to ensure the safest environment possible for any procedure.
Our surgical team is comprised of experienced and compassionate veterinarians and veterinary technicians who specialize in a range of surgical procedures, from routine spaying and neutering to complex soft tissue and orthopedic surgeries.
The team takes every measure to minimize any discomfort or pain your pet may experience during and after their procedure, and provides comprehensive post-operative care to ensure a smooth and comfortable recovery.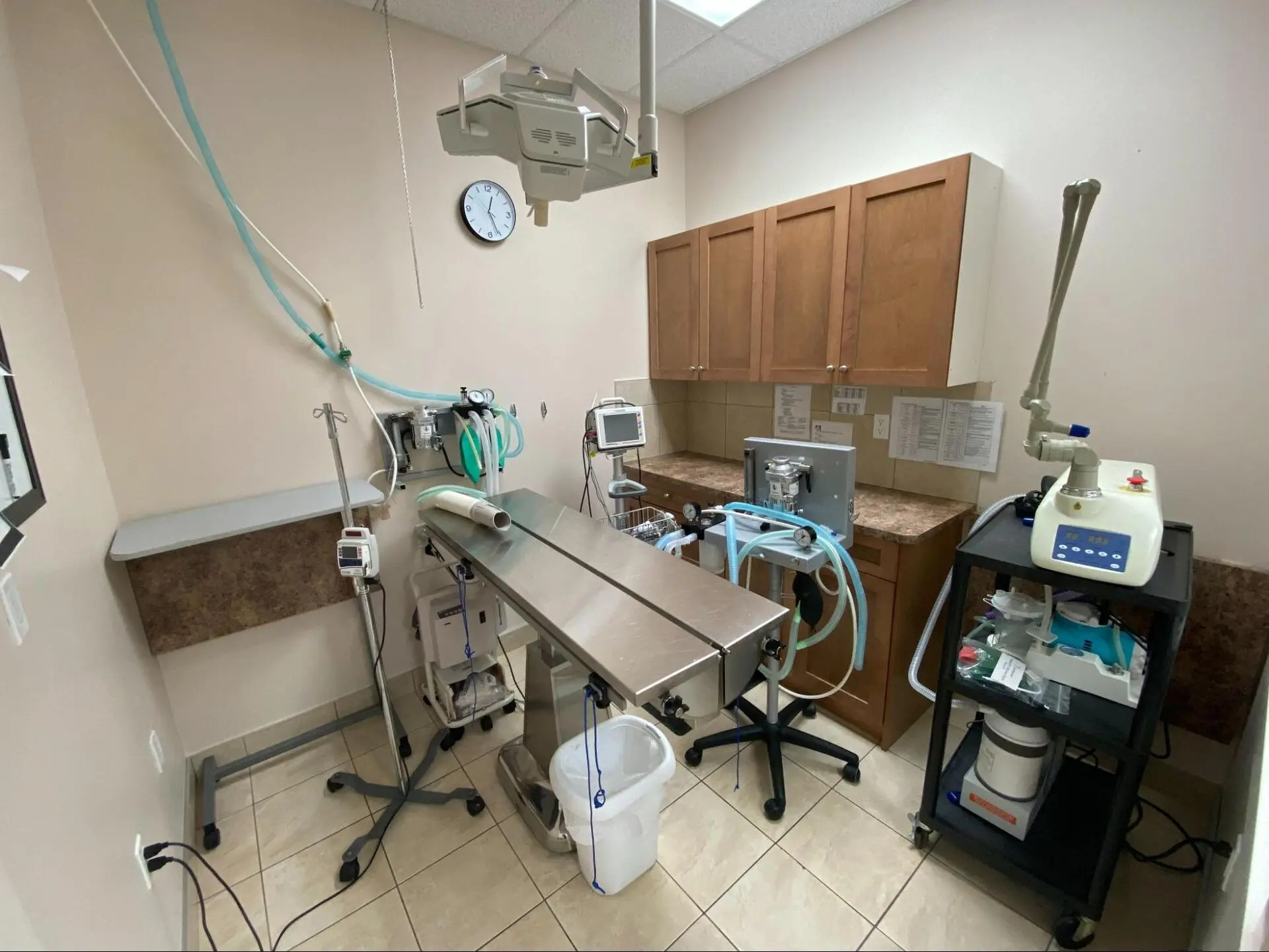 From routine procedures to complex surgeries, our state-of-the-art operating room is designed to provide the highest level of care for your beloved pets.
Treatment Area
The below picture represents our treatment area, where we perform a wide variety of relatively small diagnostic and treatment procedures. We typically perform most of our work within this area, and have designed the area with your pets comfort and safety in mind.
Our modern treatment area is equipped with specialized equipment for testing and treatment. In the picture below, you can see our treatment table, scales, lab equipment, and other supplies we use during the treatment of your pets.
Whether your pet requires a blood test, nail clipping, or other relatively minor procedure, you can trust our expert veterinary team to provide extremely effective and efficient care.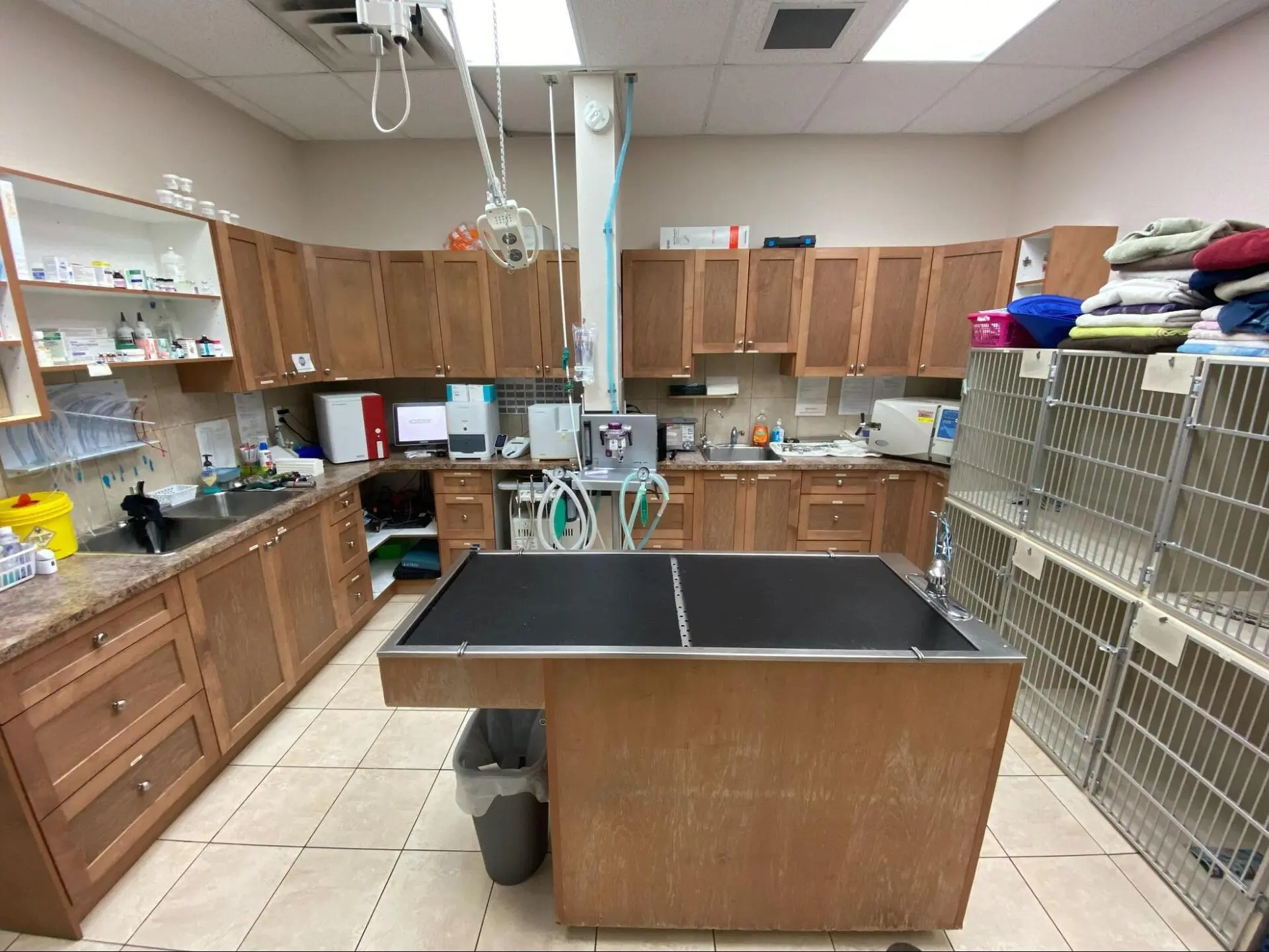 Healing happens here: our treatment area is where your pets receive top-notch care for relatively minor procedures like nail clippings from our skilled veterinary team.
Imaging Area
Our veterinary clinic is equipped with modern radiography technology to help diagnose and treat a wide range of pet health conditions.
In this picture, you can see the area in our clinic where x-rays are taken, where our veterinary team positions your pet for imaging. Our team takes great care to make the process as stress-free as possible for your furry family members.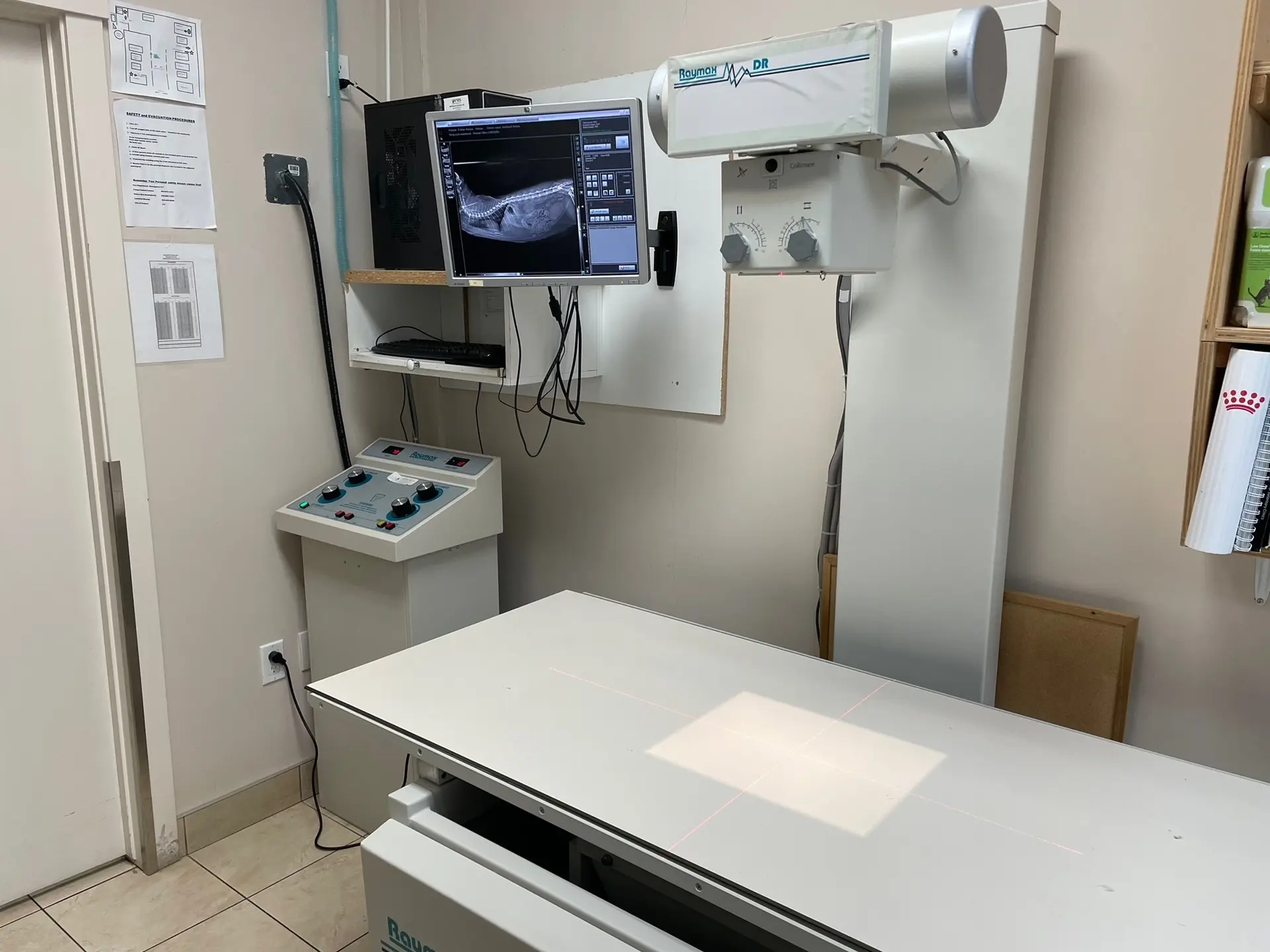 Clear images, clear diagnosis: our in-clinic medical imaging solution provides accurate imaging for precise and effective treatment.
Dental Area
At Panorama Hills Animal Hospital, we believe that good oral health is critical to your pet's overall well-being. Our dental area is thus specifically designed to provide comprehensive dental care for pets.
Our veterinary team uses advanced dental equipment and techniques to deliver a wide range of services, from routine cleanings to complex oral surgeries.
We also work closely with pet owners to provide education and guidance on proper dental hygiene and care to maintain good oral health at home. Trust us to help keep your pet's smile healthy and bright with our exceptional dental care services.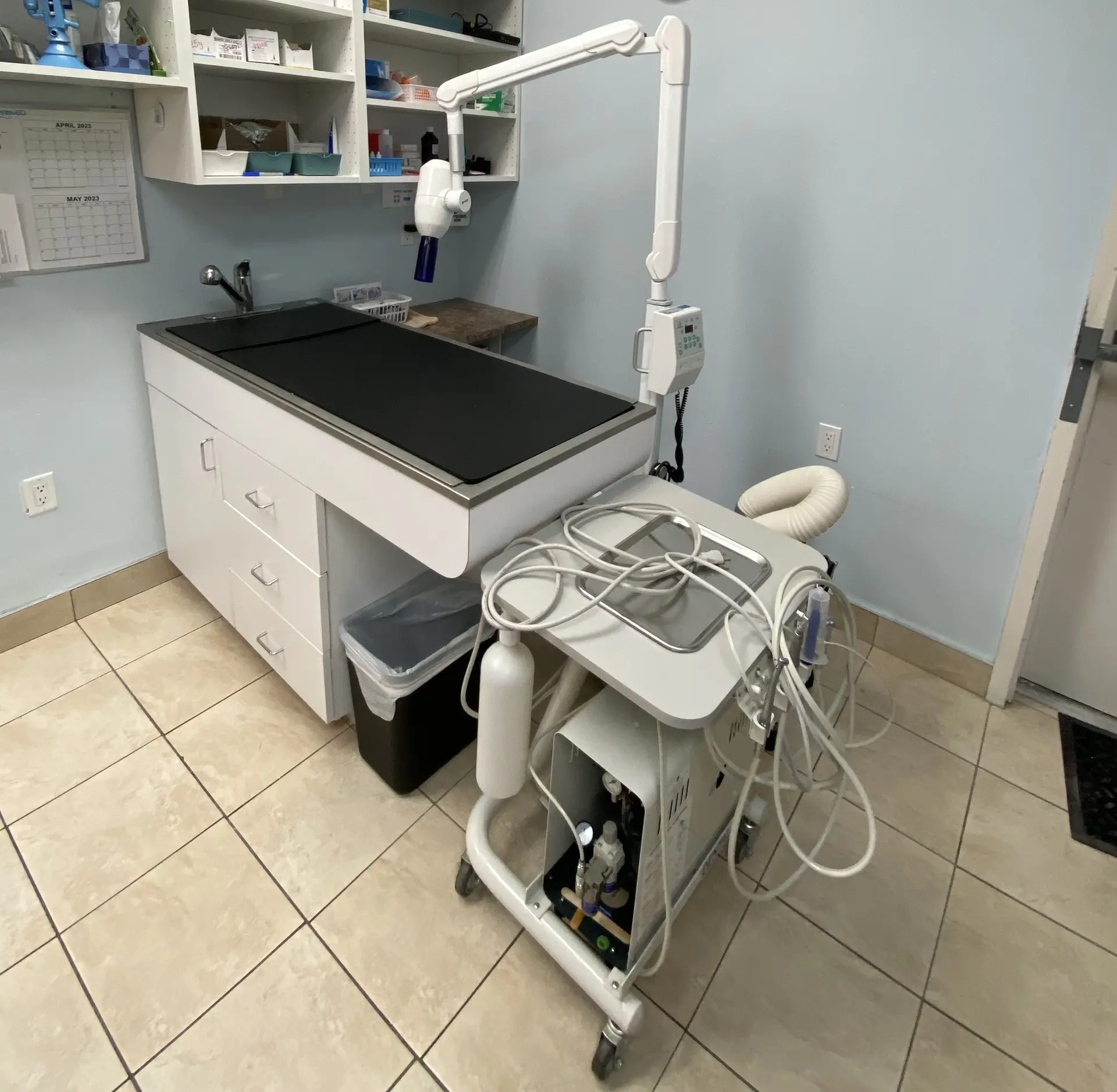 A healthy smile starts here, with our dental area being dedicated to providing top-notch oral care for your pet!
Photo Booth
Lastly, we have a special photo booth area where you can take amazing pictures of your beloved pets.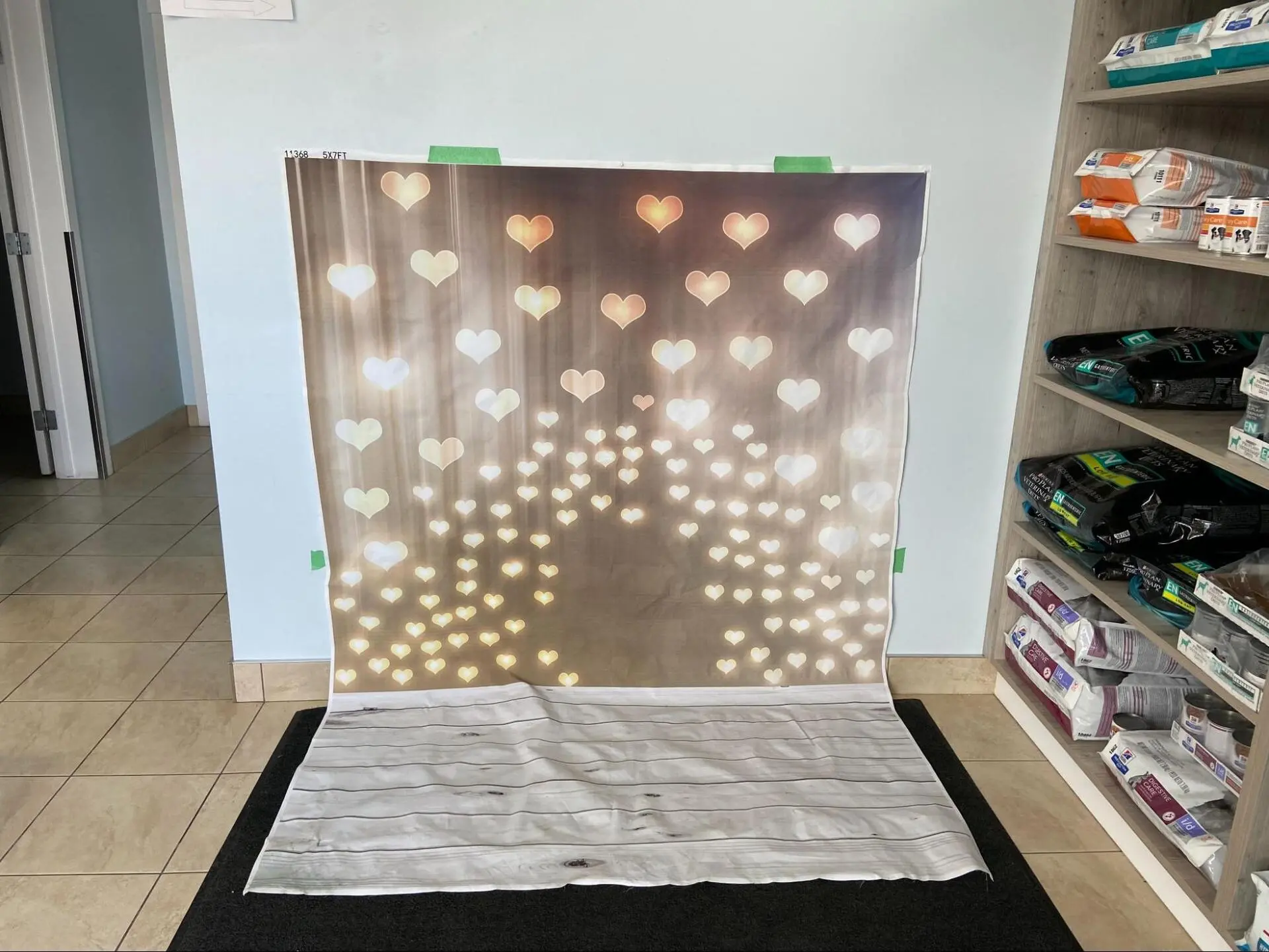 Our amazing photo booth set-up, where you can take fantastic photos of your pets!